Upholstery Webbing Stretcher, Osborne Gooseneck Webbing Stretcher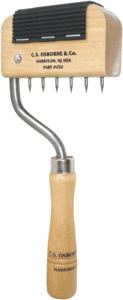 Description

Quality backed by Osborne, the leading manufacturer of upholstery tools since 1826 Equally effective for right or left hand use Rubber shield on the top of the upholstery webbing stretcher protects the wood and also prevents stretcher from slipping Extra sturdy construction to last years and years.
Goose neck upholstery webbing stretcher. This is the one I like and is the opinion of many professional upholsterers, much safer than the non-goose neck upholstery webbing stretcher. This webbing stretcher has a handle and allows you to get your upholstery webbing stretcher in tight, and close to the frame. The goose neck webbing stretcher design provides excellent leverage to get the upholstery webbing tight as a drum. It works great for the right and left hander.